Nafttech's high degree of success can be attributed to the versatility and reliability of our support partners and our collaborator teams, to integrate the clients existing operational capabilities with global maintenance services.
Our aims to create an environment in which people are highly engaged, motivated and supported, with tailored training and development plans focused on each individuals need and personal goals.
Our Partners
BERNARDINELLO ENGINEERING S.p.A.
Is a company with long experience in the fields of science and engineering allows to operate with the highest standards, offering the clients a complete, all-around service which covers every aspect of water treatment and reuse.
Create tailor-made water treatment solutions, designing and developing systems that fully meet and exceed the needing of the clients.
The reverse osmosis (RO) desalination, ionization desalination and reuse of wastewater coming from different sectors is one of Bernardinello Engineering main activities.

www.bernardinello.it
DANIELI GROUP
A world leader in the Design, Manufacturing, Supply and Commissioning of Steel Machinery Equipment and other Goods Worldwide.
Innovative design, superior quality manufacturing and assembly guaranteed through wholly-owned production centers.
It has developed significant innovative technologies and superior quality in design and manufacturing of static equipment for Oil & Gas, Petrochemical and Power Plants, including:
Pressure Vessels, Drums, Columns/Towers and Reactors, Shell and Tubes Heat Exchangers, Piping and Process Gas Heaters, Overhead & Tower Cranes and Components of Oil and Gas and Petrochemical Plants.

www.danieligroup.com
STEINMÜLLER
Steinmüller Engineering offers a diversified portfolio of process engineering knowledge in the areas of energy and environmental systems. Our engineers are familiar with every aspect of plant construction.
This wealth of experience is at the core of the Steinmüller Engineering company and our customers benefit both from our engineering consulting services and from our capacity to supply component sub-systems as well as complete systems.

www.steinmueller.com
PREI GROUP
The PREI Group comprises the companies PREI srl, ElePontiggia srl and IS Instrument & Services srl. The group is specialized in control systems and in the design and construction of electrical and Instrumentation plants.
The individual skills of each company allow the group to supply its customers with complete solutions.
The group operates in a wide range of industrial sectors: mechanical chemical, pharmaceutical, Oil & Gas, food and environmental.
The PREI Group is specialized in the design and construction of Integrated Control Systems for medium and low voltage systems developed according to customer requirements.

www.prei.it
CITECH LTD
Is a company established in 1938 to offer comprehensive solutions to the customers.
CiTECH Energy Recovery Solutions UK Ltd are an acknowledged leading supplier of Waste Heat Recovery Units (WHRU's) and Heaters.
One of CiTECH products CiBAS WHRU has been developed specifically for the offshore oil and gas industry as an all-in-one package with built in silencer and bypass sleeve for flow isolation and control.

www.citech.co.uk
PBN s.n.c.
Leader in fluid handling processes, PBN proposes itself as unique reference for the design and management of all matters related to ventilation.
PBN successfully operates in the development of:Industrial fans (FD Fan, ID Fan, Turbo Fan etc.)
– Blower
– Start-up compressore (Nitrogen Start-up compressore etc.)
– Venturi Flowmeters
– Dampers
– Noise treatment (silencers, insulations, soundproof cabins)

www.pbn.it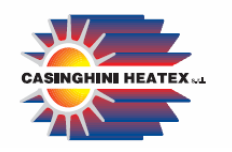 CASINGHINI HEATEX S.R.L.
Casinghini Heatex S.R.L. started its activities in 1997, as a continuation of Casinghini Company, founded in 1937. Their main products are finned and empitonados tubes, as well as those manufactured that contain or complement them, for which Casingini heatex srl has his own technology. The product range includes:
– Economizers
– Heat Exchangers
– Tank Heating Coils
– Studded Tubes
– Finned Tubes
– Soot Blowers

www.casinghini.com
PLASTEK s.r.l
The company carries out design, construction and sale of HDPE pipes and special pieces of polyethylene (HDPE) and polypropylene (PP) and printed formats up to 1200 mm diameter. The production of special pieces and customized, especially of important diameters, it ranks as one of the leading Italian and foreign manufacturers, used in installations for desalination plants, hydroelectric power stations, industrial plants etc..
PLASTEK can also intervene with skilled personnel and certified on site, equipped with suitable equipment for the realization of welds for diameters from Ø 32 to Ø 1200.

www.plasteksrl.it